Games Development Trainings by APIIT
Learn the skills of Game Development to be a competitive player in the gaming industry. Learn the tricks of the trade in game animation and how to make your motion graphics come alive. View our library of expert authored game programming courses and start learning today!
Advanced Game Development: Multiplayer Online First-Person Shooter Game Using Unity3D
The workshop denotes the learning and exploration of Unity game engine in developing the multiplayer First-Person Shooter (FPS) game. Learn the basics of Multiplayer games by building from the scratch with Photon network.
The Ultimate Guide to Video Game Design (Weapons and Props)
This course covers the fundamentals of creating weapons and props for games. In this course you will go through the entire creation process: from reference and initial concept to final model.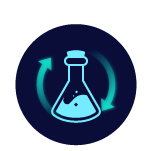 The Ultimate Guide to Video Game Design (Hyper-Realistic 3D Game Character)
In this course, students will explore conceptual ideas and approaches involved in creating successful hyper-realistic character that can be applied to video games or virtual reality concepts.
The Ultimate Guide to Video Game Design (Photo-realistic Visualization of 3D Environments)
In this course, students will explore concepts and approaches involved in creating realistic 3D environments that can be used in video games or virtual reality platforms